Kumerica's Lil Fyve Gets Featured On France's Top Media Brand, Le Monde's Website
Artistes from Kumerica seem not to be slowing down soon in their quest of putting their city on the map. Lil Fyve, a rapper from the city has gotten his newest drill jam  (popularly referred to as, Asakaa in Kumerica) dubbed, 'Hey Wait' featured on one of France's Media Networks, 'Le Monde'.
The video of the song, 'Hey Wait' was posted on Le Monde's official website www.lemonde.fr with the caption, "This is Kumerica » : la sélection musicale du « Monde Afrique » #70" .
The article talked about the origin of drill music; from and how it became popularized in America by Pop Smoke, then to the point Kumasi musicians took it's culture and made it their own and are taking it to the world now.
The article also zoomed in on Lil Fyve's track, 'Hey Wait' and explained the explicity of his lyrics and how it is affected by the culture of the Asakaa genre in Kumerica. They also validated the representation of red bandanas and white tank tops in Hey Wait's video and the importance it posseses.
The article does not only feature Lil Fyve's , 'Hey Wait' song but also include Jay Bahd's 'Y3 Y3 Dom' and Kweku Smoke's 'Do Or Die'.
Check out the original post from www.lemonade.fr from below;
https://www.lemonde.fr/afrique/article/2021/09/08/this-is-kumerica-la-selection-musicale-du-monde-afrique-70_6093941_3212.html?fbclid=IwAR3gJFQ2EHXExQdhIpvky6RcCY3z3QauTEt4AHE1qM38MGczE6ddaGvK7rQ
This is not just the first time Lil Fyve has entered the French media space. The first was a feature on another big French media wig, www.pan-African-music.com for his song, 'Live And Colored'. Watch the post from below.
https://pan-african-music.com/en/welcome-to-kumerica/
Watch Lil Fyve's 'Hey Wait' video from below.
Shatana's Song Goes Viral With Atopa Dance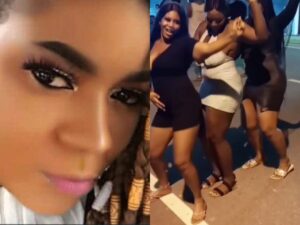 Songstress and queen of conscious music in Ghana, Shatana has entered the trends on social media with her newly released single, "Ka Ne Wu". The song which was released a week ago has appealed to the masses and music lovers. Due to this, many are those who are making videos with it on all media fora.
The masterpiece, "Ka Ne Wu" posits that being truthful always is the key to self actualization and success. Speaking truth  to power without favour is prime in all our endeavors. Also the musician talked about past leaders and influential people who spoke the truth to death but their legacies lives on.
The song which is a mid tempo although didactic will get you grooving owing to the sweet melodies which spices it. This is the more reason, fans could not help but go gaga with the song all over social media. As ladies twerked wildly to the beat and gentlemen danced with their girlfriends with it, another sect also replicated the lyrics with a skit or role play.
Enjoy a compilation of the videos from below.
Also stream, download, listen, enjoy, and share "Ka Ne Wu" by Shatana from below.
King Johnson – Brown Skin Girl (Prod By Survival)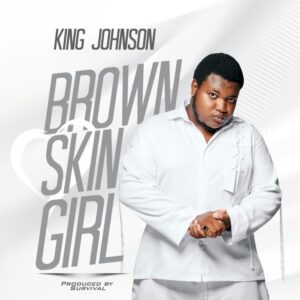 King Johnson, the talented Afrobeat musician, has just released a new song titled Brown Skin Girl. This song is a celebration of the beauty of this special someone, and is sure to be a hit with fans of Afrobeat music.
The song is a vibrant and upbeat track that is sure to get you dancing. It features a catchy chorus and a driving beat that will have you tapping your feet. The lyrics are uplifting and empowering, celebrating the beauty of brown skin and encouraging listeners to embrace their own unique beauty.
Johnson's music has been gaining popularity in the Afrobeat scene, and this new song is sure to be a hit. His unique sound and style are sure to make this song a favorite among fans of Afrobeat music.
If you are looking for a song to get you in the mood to dance, then Brown Skin Girl is a perfect choice. So be sure to check out Johnson's song and get ready to celebrate the beauty of brown skin!
Enjoy below