Wicked Queen Critics Government With "Ayew" Video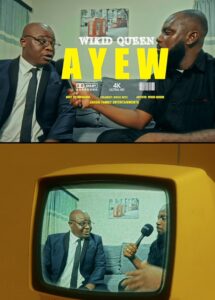 In this time of hefty crisis in Ghana, it is mostly the social duty of music artistes to speak to the truth to the government via their talent to help make changes. It seems most of our artistes are dead silent on the current state of the nation, and this is so appalling.
International female versatile artiste, Wicked Queen has burdened herself with that task. She has consistently released songs to critic the current state of the nation. Her current ironic jam, 'Ayew' is a straight jab that sarcastically judges the President, Nana Akuffo Addo for all the big promises he never delivered and the more havoc his government has rendered the nation into.
To match up the song is a controversial video that has some man looking just like the president and acting like him. The irresistible music video, which was premiered on 4Syte TV last Wednesday is out on YouTube.
Watch the video from below.
Gavali Music Has Launched An Animation Video For "Sake Of Love"
Management of multifaceted upcoming musician, Charles Fanti has released a beautiful animation video for his maiden song, "Sake Of Love". The time for visuals of the song is long overdue since the song is enjoying massive airplay both on radio and on the streets.
Gavali Music has released this animation video in the interim to quench fans' thirst as they arrange an official video for the song. The animation video correctly reflects the lyrics of the song to detail, and because of this, there is no dull scene in it.
Meanwhile, Charles Fanti is prepping up for his second released titled, " Momo". The track which features budding artiste, Styngyman is on its way and will be ready for fans' consumption soon.
Watch the animation video of "Sake Of Love" from below.
Keep watching this space for more.
Listen: 2kings Gh – True Love (Remix) ft. Gallaxy Gh [Prod. By Ebeatz]
2kings Gh has finally released their long-awaited tune titled "True Love (Remix)" Featuring Gallaxy Gh. True Love (Remix) by 2kings Gh was produced by Ebeatz and it is their official single of the year.