Wicked Queen J Sternly Replies DKB Over Comment Made On Her "Ayew" Song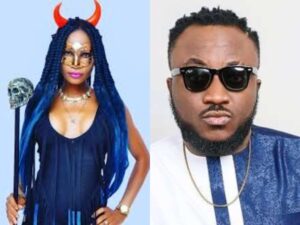 The queen of all satirical music, Wicked Queen J is in a serious banter with comedian, DKB online. This feud started when DKB condemned the musician's new song, "Ayew".
DKB shaded Wicked Queen as being disrespectful to the president. He furthered by venting his spleen on the musician for setting a bad precedence for the youth to follow. He lastly suggested that such songs like, "Ayew" should be banned.
DKB's attack did not sit well with the 'Wicked' musician so she also replied him in equal measure if not more. She retorted to foul and extremely harsh unprintable words against the comedian. She again warned him never to meddle in her business again or he might face dire consequences.
The "Ayew" jam by Wicked Queen is a satirical body of work that criticizes the doings of the present and past governments of Ghana. It emphasizes the antics the politicians use to device the general populace to garner votes into office.
DKB is yet to respond to Wicked Queen J's heavy clapback.
Watch the video of the "Ayew" song from below.
Hon. O.B Amoah Threatens To Destroy Shatana's Property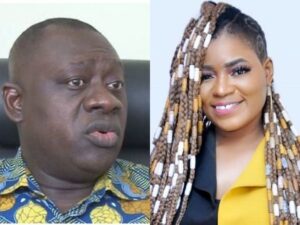 Recent news in reveals that Honourable Osei Bonsu Amoah, who is the Member of Parliament for Akuapem South, has threatened to seize a property owned by outspoken musician Shatana.
According to reliable information ganered, it is alleged that the Member of Parliament conspired with a white lady to intimidate and fustrate Shatana and deprive her of what is rightfully hers.
The premise of the issue is that Shatana's property is opposite a white's in Oboadeka in the Eastern Region, where they is a water body in between them. It was said that the Hon. O.B was in consent with whatever the white owner did but wants Shatana out of her land when she is doing exactly what needs to be done.
According to eyewitnesses, Hon. OB Amoah and his landguards are terrorizing workers on Shatana's land, a situation she described as disturbing.
Shatana, on the other hand, is begging the Eastern regional police commander, DCOP Dr. Sayibu Pabi Gariba and the Inspector General of Police, Dr. George Akuffo Dampare, to intercede and call Hon. OB Amoah to order.
Some residents who witnessed the ordeal and recounted their ordeal to Ghvibe.com sponsored by Hon. OB Amoah, and thus called on the GP to intervene as soon as possible.
According to some residents, OB Amoah has stated that if Shatana takes 24 hours to build, he will demolish it in seconds.
"The land guards showed up while we were working on the site." They took our tools and almost beat us up", they said.
Shatana is pleading with the IGP to come and investigate the matter so that peace can be restored.
Watch Video Below as presented by residents of the town.
Story Source,: kingdomfmonline.com
Artiste Profile: Meet Zenock, The Young Creative Who Is Taking Animation In Africa A Step Further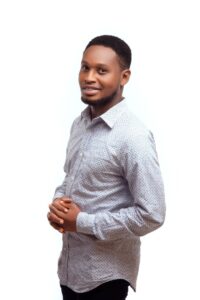 Young and talented animation music video producer and director, Zenock Gyimah-Amponsah, has always mentioned that he wants many Ghanaian creatives to invest more in the country's animation industry.
As the years go by, he looks forward to having an all-star animation team in Ghana that will produce many animation music videos and movies.
Known as ZENKS, Zenock Gyimah-Amponsah is a graduate of the National Film and Television Institute of Ghana (NAFTI) who majored in Animation.
Following his love for video production, Zenock soon after he graduated from NAFTI ventured into the production of music animation videos for artistes in the country.
The animator for the past seven year has been involved in the production of animation videos for local artistes, helping to boost the animation industry in Ghana.
"I have been working in animation field for the past 7 years now. I have collaborated with various individuals in the animation and multimedia field of which some of the works gained international recognition and awards. I currently run an animation studio name ANIMATE 24".
A few weeks ago, the chief executive officer of US-based Gavali Music contacted Zenock to produce animation video Charles Fanti, artiste on the record label to promote his song titled "Sake Of Love".
Some of my notable works include EDEM (animated short which gained 10 international nominations), Tales of Nazir and We do Som (animated some of the characters), Blakk Rasta's Mallam Tonga Animated music video and a host of others.
Today in Ghana, there are very few animation studios, but the country's animation industry is beginning to grow gradually, with a subtle increase in the number of animators and animated music video. Zenock is one of the animators setting the pace for a greater animation industry in Ghana.
Zenock Gyimah-Amponsah has promised to lead a campaign which targets youths or the younger generation to take up animation.
For him, the dream is to see Ghana where there are many young creatives passionate about the art and producing animation music videos and films to promote Ghanaian music and culture.