Anticipate: Charles Fanti Is Set To Release His New Nanger, "Sake Of Love" Soon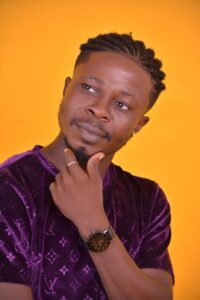 Highlife and Afrobeat artiste, Charles Fanti is set to release his much anticipated track, "Sake Of Love," pretty soon.
The Gavali Music signee, Charles Fanti after wetting his fans appetite promises to deliver them soul soothing vibes of a song in his upcoming banger, "Sake Of Love". The versatile artiste in this vein has urged his fans to support the song with their all when it drops because it's a track that will make anyone's day anyday.
The afable artiste who has been in the music scene for a while merges the styles of legendary artistes, Daddy Lumba, Kojo Antwi, Daasebre Dwamena, Nana Ampadu, just to name a few. This makes his music quite unique and refreshing.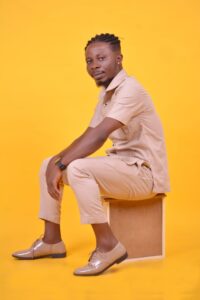 "Sake Of Love" as soon as it drops will be available on Audiomack, Spotify, YouTube and all digital and music streaming platforms.
Watch this space for more updates on the song.
Prophet Kumchacha Eyes 2024 Presidency
The founder and leader of the Heaven's Gate Ministries,  Prophet Nicholas Osei mostly known as Kumchacha, has formally declared his intent to contest in the 2024 presidential election on the ticket of the Kum People's Party (KPP).
According to information gathered from close sources and his team, Prophet
Kumchacha did not just wake up to this fate but has thoroughly thought through it before moving into motion. Kumchacha who is known for his aggressive outbursts on social and political issues in the country deems himself fit for presidency because he believes he being a man of God with thousands of people under his care knows how best to manage the nation.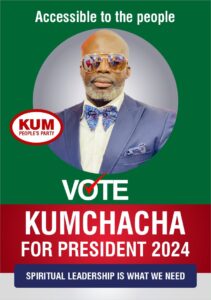 The man of God is said to have already assembled a team of able bodied men with intellect and drive who are ready to serve the country Ghana. Prophet Kumchacha promises a government that prioritizes the needs of the needy and less privileged.
His team furthered that, the prophet realising the fact that all past governments having abused the rule of law, and lying to power by playing with the intelligence of Ghanaians, he sees himself as the saviour to correct all the wrongs of the country now because he has all the clues and policies needed to reconstruct the nation.
His team also projected that team KPP led by Prophet Kumchacha believes partisanship is the major contributing factor of our woes as a country and the faster we ditch it, the better. They indicated that Ghana is underdeveloped because of bad leadership. They urged Ghanaians to do away with the politics of "NPP and NDC" and see their leader, Prophet Kumchacha as the alternative.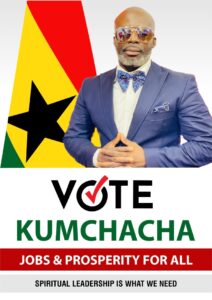 Kumchacha and his "Kum People's Party" in their manifesto spelt out ten core objectives of revamping Ghana's economy. Starting by focusing on unemployment, health, and women empowerment. They will then zoom into  the education, infrastructure and  sports sectors. Lastly they will hurdle the affairs of tourism and agriculture into betterness.
The source also mentioned that the "KPP" administration will work vigorously to implement policies that will take care of Ghanaians by creating employment for the youth.
Also, providing the health needs of the people would also be their outmost priority. He said if Prophet Kumchacha is elected president, his government will build well equipped general hospitals in all the 16 regions of Ghana to support the existing ones which are at times chocked.
The source, however, appealed to the people to consider him for the coveted office of the president based on his experiences and commitment to democratic norms.
The team then has assured Ghanaians that they are going to see more of KPP as they have readied their campaign song and fliers which they will release soon.
Watch this space for more updates on this story.
Wyse Brain 'Eyes' Best Promoter At Ghana National Gospel Music Awards 2022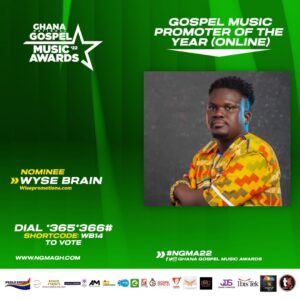 Multiple award-winning promoter and blogger Michael Aidoo, professionally known as Wyse Brain, has been nominated for the Ghana National Gospel Music Awards 2022.
The CEO of wysepromotions.com was nominated in the Gospel Music Promoter (Online) category.
Wyse Brain a.k.a Da BiggestPromoter has been consistent in pushing gospel music and new artistes in the gospel fraternity over the years and has won several awards.
Kindly dial *365*366# and use WB14 as a unique code to vote for Wyse Brain to win Gospel Music Promoter Of The Year (Online).
https://www.instagram.com/p/Cg1nV5XsdBC/?igshid=YmMyMTA2M2Y=