Afro-gospel Musician, Joseph Matthew Says Ghana Can Only Win The World Cup If We Do Do This…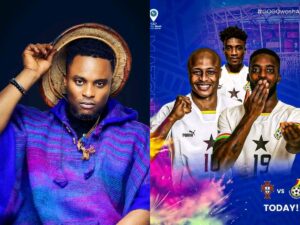 The world cup is here once again  and the quest for an African team or specifically team Ghana to win this world cup in Qatar is dire than ever.
Ghana together with Senegal, Morocco, Tunisia and Cameroon are the nations representing Africa at this year's World Cup.
It's extremely disheartening that upon all the legendary footballers like Ghana's Abedi Pele, Liberia's current President George Opong-Weah, Ivory Coast's Didier Drogba and Samuel Eto'o from Cameroon, who are Africans, the continent is yet to win the most prestigious football tournament in the world.
The highest stage an African country has ever gotten to is the quarter finals. The first African country to achieve such a feat is Senegal in 2002, followed by Ghana at the 2010 mundial in South Africa.
At the 2010 World Cup which was the first to be staged in Africa, Ghana became the closest African team that was inches away from making history as the first to qualify into the semi finals.
The Black Stars reached the last-eight stage in what was just their second World Cup campaign, were on the verge of becoming the first African team to reach a World Cup semi-final but the dream was short-lived when Uruguay trashed them in a penalty shoot out.
However, the question that football enthusiasts and connoisseurs keep asking is, "Can an African team ever win the World Cup?" Even if it's a "yes", "when will that happen?".
Well, once a footballer, UK-based Ghanaian Afro-gospel musician, Joseph Matthew has prophessed that an African team can surely win the World Cup if they adequately prepare.
Speaking to hotfmghana.com , the 'Blessed' Hitmaker outlined what most african teams, especifically, Ghana's team, the  'Black Stars', must do in order to win the Cup. He said,
"Why not! An African team can win …Ghana Black Stars can surely win …But in Africa, we don't like to take strides in long-term planning.

A coach would be hired and before the world cup he would be sacked then another coach takes over with a different philosophy and different players… We lack sustainability", he added.
The award-winning Afro-gospel musician stated that another horrendous contrivance hindering our chances of winning the world cup is the interference from our football governing bodies and process of selecting players.
The 'Nyame Ye' crooner advised that,
"The Ghana football Association must adopt a long-term strategy that would propel the Black Stars to win her first World Cup".
In this, he asserted that grooming players from the get go till they grow into the national team is ideal to our success.
Ever since Joseph Matthew surfaced in the Ghanaian Gospel Music scene in 2019, he has released impressively produced songs such as 'Nyame Ye', 'My Story' 'The Name' and 'Blessed'
'Blessed', which was released in May this year, has been heavily tipped by entertainment pundits to win 'Record of the Year' award at the 2023 Ghana Music Awards.
Have a feel of Joseph Matthew's "Blessed" from below.
Source: hotfmghana.com
Black Action Gang Set To Release A New Single After Debut Album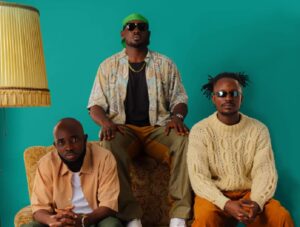 Ghanaian drill and hip hop rappers, Black Action Gang is set to release a new single after releasing their debut album.
The trio released their debut album titled "God Is A Rapper" in December 2022. The album has received positive feedback from music lovers across the world.
In an interview with wysepromotions.com, the group revealed that they are about to drop a new single dubbed "Sad Song".
"The upcoming single talks about struggles and breaking free from whoever looked down on us and how we've been able to make it this far regardless", they said.
"Sad Song" is a hip hop song produced by Xboifriend On It and it features Tray LA.
Check out "God Is A Rapper" below as you anticipate this new single.
Korkorti Asamoah – Meba (Prod. By Skybeat Classic)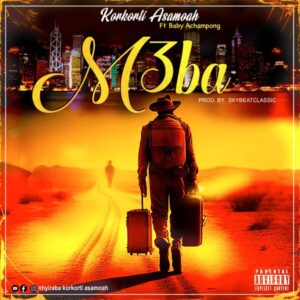 Ghana's vibrant music scene has once again been graced by the melodious tunes of highlife sensation, Korkorti Asamoah. With his latest release titled 'Meba,' produced by the talented Skybeat Classic, Korkorti takes listeners on a poignant journey through life's highs and lows.
In 'Meba,' Korkorti Asamoah's silky-smooth voice serves as a vessel for raw emotion, as he delves deep into the ebbs and flows of existence. The song opens with a soul-stirring melody that immediately captures the heart, setting the tone for a musical experience like no other. As the lyrics unfold, Korkorti's storytelling prowess becomes evident, painting vivid pictures of life's unpredictable nature.
Korkorti's lyrics in 'Meba' don't just dwell on life's challenges; they also emphasize the valuable lessons that can be gleaned from adversity. His message is clear: no matter the obstacles we face, we have the power to rise above them and emerge stronger and wiser.
The instrumental brilliance brought to 'Meba' by Skybeat Classic cannot be overstated. The production is a perfect marriage of modern soundscapes and traditional highlife elements, making it a captivating sonic experience. The seamless fusion of various musical elements highlights the rich tapestry of Ghana's musical heritage while keeping the song fresh and contemporary.
Korkorti Asamoah's 'Meba' is more than just a song; it's a musical journey that resonates with the essence of life itself. With its compelling storytelling, emotive vocals, and expert production, 'Meba' stands as a testament to Korkorti's talent as a highlife musician.
In a world filled with uncertainty, 'Meba' serves as a reminder to embrace life in all its facets, to cherish the highs and learn from the lows. Korkorti Asamoah's latest offering is a gift to music enthusiasts, a song that touches the heart and soul, and a reminder that, in the end, life's unpredictability is what makes it beautiful.