Gospel Artiste, Joseph and The Kohanim Releases Much Anticipated, "In Your Presence" Album
Following on from the success of his 2020 single 'I Have A Dream,' Joseph and the Kohanim is back three years later with his remarkable debut album entitled "In Your Presence",  an album that began as an intimate journey within the heart and mind of Joseph himself.
He describes crafting each song as a 'voyage,' whereby melodies and choruses reverberated through Joseph's thoughts before finding their final versions. "In Your Presence" spans international borders with Nigerian and South African artists joining forces on tracks like "Beautiful, Wonderful" and "Dance Like David," where Fega Micheal's spirited rap in Nigerian-Pidgin English added a certain dynamic flair.
Additionally, featured artist Tee Mogano, who was once a backing vocal for Israel Houghton, lent his powerful lead vocals to "I'll Be There," bringing his South African timbres into the richs soundscapes on the same track, and on 'Woke,' Joseph was backed by an international chorus with united efforts from the UK – Joseph and his church members braving cold venues to harmonize for that true choir sound.
Across the Atlantic, Sharonda Griffin's ethereal backing vocals came from Detroit, Michigan, to add an extra, transcendent layer. Joseph drew on his divine and faithful inspiration for tracks "Walking On Water" and "Lord I Need You", which emerged in the weeks leading to the album's release, fueled by a relentless desire to share his positive message.
With mixing and mastering in both Ghana and Detroit, "In Your Presence" beckons listeners to embark on a transcendent journey, guided by the passionate and heartfelt expressions of Joseph and the Kohanim – a global testament to the power of Gospel music.
Joseph and the Kohanim is a multifaceted musician, songwriter and creative force who has been enthralled by music since his childhood. It was back in the early 90s that he first started
making music, inspired by the dulcet tones of artists such as the Clark Sisters, John P Kee, Fela Kuti, Gyedu Blay Ambolley and Earth Wind and Fire. His musical career was put on hold when he embarked on his spiritual journey as a missionary, travelling the globe
and spreading the positive messages of the Gospel. In 2017, Joseph finally found the time and opportunity to restart his musical career and, utilizing his decades of inspiration and dedication, released his debut single entitled 'I Have A Dream' in 2020. As Joseph and the Kohanim continues to craft his musical legacy with 2023 album 'In Your Presence,' his dedicated following are eagerly anticipating what this artiste has planned next.
Checkout the album from below.
Support Joseph & The Kohanim on Social Media by the following fora.
Listen to more of Joseph & The Kohanim
Spotify  | Apple Music
Prophet Albert Mc-Williams – Nyame Ayɛ Bi- (Prod. By Sly beatz)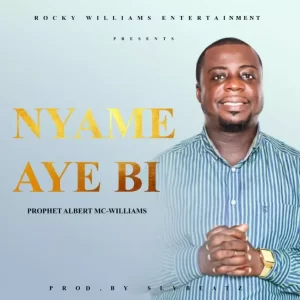 Rocky Williams Entertainment is thrilled to announce the release of a captivating new song titled 'Nyame Ayɛ Bi' by their talented artist Prophet Albert Mc-Williams. Produced by the renowned Sly beatz, this soul-stirring track serves as a heartfelt expression of gratitude towards God for the artist's journey thus far.
In 'Nyame Ayɛ Bi,' Prophet Albert Mc-Williams beautifully weaves together his powerful vocals with meaningful lyrics, creating a musical masterpiece that resonates with listeners on a spiritual level. The song is a testament to the artist's unwavering faith and his acknowledgment of God's grace and guidance throughout his career.
With its melodic rhythms and uplifting message, 'Nyame Ayɛ Bi' is sure to touch the hearts of music lovers from all walks of life. Prophet Albert Mc-Williams' sincere and heartfelt delivery, coupled with Sly beatz's exceptional production, make this track a true standout in the music industry. As listeners immerse themselves in the enchanting melodies, they are reminded of the importance of gratitude and the power of faith in navigating life's challenges.
Rocky Williams Entertainment invites everyone to experience the soulful magic of 'Nyame Ayɛ Bi' and join Prophet Albert Mc-Williams on his musical journey of praise and thanksgiving. This inspiring track is a testament to the artist's talent and devotion to his craft, leaving listeners eagerly anticipating what he has in store next.
Prophet Atarah – Meye Obi (I'm Somebody)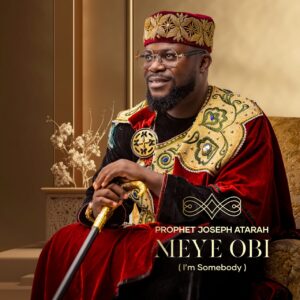 Gospel musician, Prophet Joseph Atarah encouraged everyone who is currently going through tribulations not to give up.
According to him, there are times and seasons in everyone's life.
For this reason, he said giving up should never be an option because it stalls progress.
Speaking to the media on the back of his new song, ' Meye Obi', the Man of God said there are moments in life when one's small beginnings are despised.
That notwithstanding he said with perseverance and continuous dedication to God, the small bigging could be turned around for a better future.
Narrating his story to inspire music lovers, Prophet Atarah said at a point in his life many looked down upon him, however, he did not give up, " I kept trusting in God, worked hard and dedicated my time to the things of God, and today, the story is different, I am somebody."
The song produced by renowned Producer, Kaywa is Prophet Atarah's first release for 2023.
'Meye Obi' is available on all music streaming platforms.
Listen to the song below