Oboy Sika Drops New Gospel Song "Timelɛlɛ"
Oboy Sika Drops New Gospel Song "Timelɛlɛ"
We introduce to you gospel singer Oboy Sika. He is a gospel musician who has been blessed with enormous talent and he is known for making people accept Christ through his songs.
Oboy Sika has been around for quite a long time, blessing people with his God given talent through music.
He has been making major impacts with his songs both here in the Ghana and International scenes which has attracted more followers to him by the Grace Of God.
Sensational Ghanaian Gospel Musician Oboy Sika is currently making waves in Ghana with his new single titled "Timelɛlɛ" .
The song talks about the level of Love Our God Almighty has for his children and some wonderful works of God. Check out this new masterpiece.
Shatana Drops Fresh Visuals Of Controversial "Lipo Lipo" Song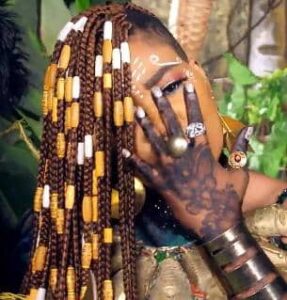 The queen of conscious music in Ghana, Shatana has released the visuals of her much anticipated song, "Lipo Lipo". "Lipo Lipo" which is a fancy way of referring to the term, "Liposuction" which is the technique in cosmetic surgery for removing excess fat from under the skin by suction. The excess fat is mostly infused to the butts to make them bigger.
This practice has been the order of the day where even celebrities are involved and normalizing it . This in turn is psyching the youth to get involved with the act . Shatana as a musician and social vigilante released "Lipo Lipo" to counteract the routine which is fast becoming normal in the society. She enlightened the effects of the procedure, and touched on the pride of staying natural and the confidence it carries.
Owing to the didactic nature of the song, it garnered massive airplays on radio spaces. This informed Shatana's team to get a video done, which they did. The music video adores culture and purity, the virtue of staying original and default was strongly advocated in the video. Also, art was a tool that was colourfully displayed to reverence the artiste's stand or believe on the subject matter.
Without wetting your appetite further,  I present to you, the visuals of "Lipo Lipo" by Shatana. Watch, enjoy and share the video and song from below.
Tess Positivity — Don't Waste Your Time (Prod. By B2 & PP Blaq)
Budding artiste, Tess Positivity after a brief break is back with a motivational jam to inspire the youth to aspire to achieve their goals in life before the expire.
As the title suggests, "Don't Waste Your Time" tells the youth to stay focused in life and not waste time doing unnecessary stuff that will wear off their lives, as time waits for no man.
The song as produced by B2 and PP Blaq is also groovy and danceable though inspirational.
Without much ado, I present to you, "Don't Waste Your Time" by Tess Positivity. Download, stream, enjoy and share from below.