King Paluta Announces The Demise Of His Father
King Paluta, 
a 
Ghanaian musician
, 
has 
lost 
his 
father.
The 
My Lord
hitmaker 
shared 
the 
sad 
news 
of 
his 
father's 
death 
on social media
, 
writing:
"I Lost my Dad Yesterday Morning, Mr. Joseph Kwaku Sarfo. He was a good man. He wasn't only a father to me but also my very good close friend. I really miss him so much already. Rest In Peace 
 Daddy. Till We Meet
"
Several 
fans and loved ones 
have 
expressed 
their 
condolences 
to 
him 
and 
his 
family 
since 
the 
announcement.
The 
cause 
of 
death 
for Mr. Joseph Kwaku Sarfo 
is 
now un
known.
We 
extend 
our 
condolences 
to King Paluta
.
MC Desaint Bags Another Prestigious Award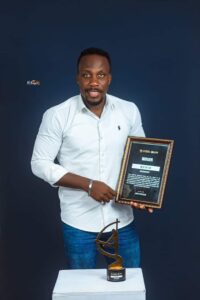 Master of Ceremonies (MC) extraordinaire, Isaac Djan popularly known as MC Desaint has been crowned the MC of the year 2023 at the just ended Africa Showbiz and Industry Awards.
The show which was held at the GNAT Hall, on the 21st October 2023 in Accra saw many greats in the Ghanaian showbiz industry present.  It was a wonder to behold.
MC Desaint who has officiated over 200 events in the year under review was the favorite in the category. It was then of no wonder to all at the event that the genius with the mic won the day. The resounding applause that followed him as he walked to collect his plaque affirmed that indeed he was the best.
Watch the video of MC Desaint receiving his award at event.
Follow MC Desaint on the following social media fora.
Follow or book MC Desaint on the following social media fora;
Instagram: @mcdesaint
Facebook: @Isaac Djan
Facebook Page: MC Desaint
Tiktok: mcdesaint1
Email: [email protected]
Call / WhatsApp: 0549214714
"It's Impossible For Shatta Wale To Cater For Bonchaka's Mum When His Own Mother Is In Need" – Shatana Quizzes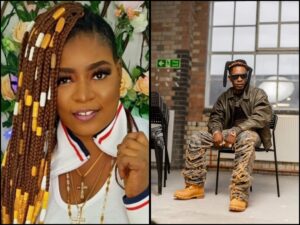 The hubbub surrounding Terry Bonchaka is now ripe and incessant than twenty years ago when he passed. It is public knowledge that decorated Ghanaian musician Shatta Wale was under Terry's coaching in musical art. Many thoughts were that, as he learnt from Terry, it was just prudent enough to help Terry's mother, or visit her intermittently on the regular.
Just a week ago, Doreen Avio in an interview with Mrs. Charlotte Adjetey, Terry's mother on Daybreak Hitz expounded that she has been going through a lot since his son's demise. She said most of the musicians and friends of Terry has neither helped or visited her. She however said although Shatta Wale has not come to to visit her, he sent his father over to visit her with a token.
The twist comes when Mrs. Adjetey in a new video rants that Shatta Wale has not been visiting or taking care of her but it was just a one time thing. She feared that how some news outlets are reporting that Shatta Wale has abandoned her mother and taking care of her is distasteful and denting her image.
Female artiste and family member of the family, Shatana has also invalidated these outrageous claims against Terry's mother. She exclaimed that those rumours are driving people who want to help Mrs. Adjetey away because they think she is being catered for by Shatta Wale. " It is impossible to take care of Terry Bonchaka's mom when you can't take care of your own", Shatana quizzed.