Motorbike riders will be arrested after 6:30pm – Police Commander



The newly appointed Upper West Regional Police Commander, DCOP Peter Ndekugri, has warned that all young men sitting on the same motorbike after 6: 30 pm will be arrested.

DCOP Peter Ndekugri said the move is to clamp down on the rise in robbery cases in the country especially in the Upper West region.

Addressing a press conference in the Upper West Region after his appointment, DCOP Ndekugri said he is resolved to ensure that peace returns to the region at all cost.

He added that he will not relent in his pursuit of peace in the region adding he is ready to make enemies if that will guarantee him the needed results.

"No two young men should be on a motorbike after 6: 30 pm, I repeat, no two young men should be on a motorbike after 6: 30 pm. Whether you like it or not. Security is very expensive, in Bawku for instance, for two years, men were not riding on motorbikes ad yet we were able to maintain the peace.

"So please we should not take peace as a joke, it is one of the most essential commodities as far as this world is concerned…and I am ready to do that."
Source:Starrfm.com
Hon. O.B Amoah Threatens To Destroy Shatana's Property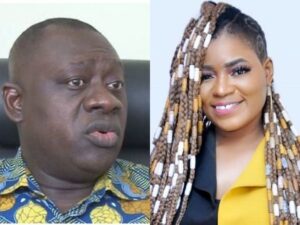 Recent news in reveals that Honourable Osei Bonsu Amoah, who is the Member of Parliament for Akuapem South, has threatened to seize a property owned by outspoken musician Shatana.
According to reliable information ganered, it is alleged that the Member of Parliament conspired with a white lady to intimidate and fustrate Shatana and deprive her of what is rightfully hers.
The premise of the issue is that Shatana's property is opposite a white's in Oboadeka in the Eastern Region, where they is a water body in between them. It was said that the Hon. O.B was in consent with whatever the white owner did but wants Shatana out of her land when she is doing exactly what needs to be done.
According to eyewitnesses, Hon. OB Amoah and his landguards are terrorizing workers on Shatana's land, a situation she described as disturbing.
Shatana, on the other hand, is begging the Eastern regional police commander, DCOP Dr. Sayibu Pabi Gariba and the Inspector General of Police, Dr. George Akuffo Dampare, to intercede and call Hon. OB Amoah to order.
Some residents who witnessed the ordeal and recounted their ordeal to Ghvibe.com sponsored by Hon. OB Amoah, and thus called on the GP to intervene as soon as possible.
According to some residents, OB Amoah has stated that if Shatana takes 24 hours to build, he will demolish it in seconds.
"The land guards showed up while we were working on the site." They took our tools and almost beat us up", they said.
Shatana is pleading with the IGP to come and investigate the matter so that peace can be restored.
Watch Video Below as presented by residents of the town.
Story Source,: kingdomfmonline.com
Pay bloggers to make you popular instead of contesting Mahama-Kofi Adams to NDC flag bearers.
NDC Member of Parliament(MP) for Buem constituency, Kofi Adams, has disclosed that it will only be wise for anybody who will decide to contest former President Mahama for the 2024 flagbearership of the NDC to pay bloggers with the campaign money for them to make him or her popular.
Speaking on Okay FM's 'Ade Akye Abia' programme, the former National Organizer of the party explained that he cannot understand why somebody would want to contest former President John Dramani Mahama who has already been marketed and known within the party and the country at large.
"This is not the time we will need to do try and error or market a new candidate. Former President John Manhama is tried and tested and has proven that he is very popular in the country. He won over six million votes in the last elections and I don't think it will be proper for the party to choose a new candidate over him," Kofi Adams said.
Whiles voicing his support for the idea of potential candidates contesting against the former President for the flagbearer position of the party, Kofi Adams pointed out that it will only be proper and wise for who ever decides to contest him, to spend that money on bloggers so that they can make him popular.
He maintains though he has not heard from Dr. Kwabena Duffour on his decision to contest the former leader of the party, he believes that Dr. Duffour will not make such a grave mistake to contest the man of the moment.
Source:Peacefmonline