Ghanaian USA-based Artist Clem Biney Releases Captivating Afro Pop Single "Euphoria"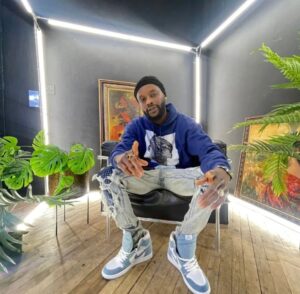 Ghanaian-born, USA-based artist Clem Biney has once again mesmerized music enthusiasts with his latest release, an infectious Afro pop song titled "Euphoria." Produced by the talented ItzJoe Beatz , the track showcases Biney's unique musical style, blending vibrant Afro beats with catchy melodies and heartfelt lyrics. With his distinct sound and undeniable talent, Clem Biney continues to make waves in the music industry, captivating audiences worldwide.
"Euphoria" stands out as a true masterpiece in the Afro pop genre, combining lively rhythms, captivating instrumentation, and Biney's soulful vocals. The song immediately grabs listeners' attention with its infectious energy, setting the stage for an uplifting and joyful musical experience. From the first note to the last, "Euphoria" keeps the momentum high, encouraging listeners to lose themselves in the irresistible groove.
The mastermind behind the production of "Euphoria" is none other than the highly skilled ItzJoe Beatz . Known for his ability to create dynamic beats and bring out the best in artists, Itzjoe's production perfectly complements Clem Biney's charismatic performance. The collaboration between Biney and ItzJoe Beatz proves to be a match made in musical heaven, resulting in a track that exudes professionalism and undeniable quality.
One of the defining aspects of "Euphoria" is its lyrical depth. Clem Biney's heartfelt words touch upon themes of love, happiness, and celebration, allowing listeners to relate to the emotions conveyed in the song. Biney's smooth and melodic delivery adds an extra layer of authenticity to the track, making it easy for fans to connect with his music on a personal level.
With "Euphoria," Clem Biney solidifies his position as a rising star in the Afro pop scene. Having already garnered a dedicated following, the Ghanaian-born artist continues to expand his fan base with each new release. "Euphoria" has all the makings of a chart-topping hit, and its infectious nature ensures that it will be a staple on playlists and radio stations around the world.
As Clem Biney continues to make waves with his unique blend of Afro pop music, fans eagerly anticipate what the future holds for this talented artist. With his unwavering passion, charismatic stage presence, and commitment to his craft, Biney is set to conquer new heights in the music industry. "Euphoria" serves as a testament to his artistic growth and showcases the immense talent that lies within him.
Clem Biney's latest single, "Euphoria," produced by ItzJoe Beatz , is an absolute delight for Afro pop enthusiasts. The captivating beats, melodic vocals, and meaningful lyrics come together to create an uplifting and unforgettable musical experience.
As Biney continues to gain recognition both in Ghana and the USA, his shine is undoubtedly on the rise. "Euphoria" is a testament to his musical prowess and serves as a promising glimpse into his bright future in the industry. Fans and music lovers alike eagerly await what Clem Biney has in store for us next.
Black Action Gang Set To Release A New Single After Debut Album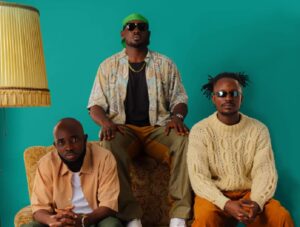 Ghanaian drill and hip hop rappers, Black Action Gang is set to release a new single after releasing their debut album.
The trio released their debut album titled "God Is A Rapper" in December 2022. The album has received positive feedback from music lovers across the world.
In an interview with wysepromotions.com, the group revealed that they are about to drop a new single dubbed "Sad Song".
"The upcoming single talks about struggles and breaking free from whoever looked down on us and how we've been able to make it this far regardless", they said.
"Sad Song" is a hip hop song produced by Xboifriend On It and it features Tray LA.
Check out "God Is A Rapper" below as you anticipate this new single.
Korkorti Asamoah – Meba (Prod. By Skybeat Classic)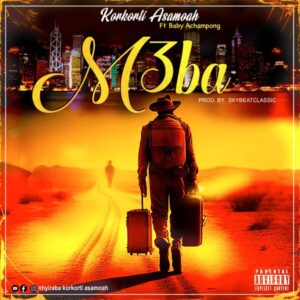 Ghana's vibrant music scene has once again been graced by the melodious tunes of highlife sensation, Korkorti Asamoah. With his latest release titled 'Meba,' produced by the talented Skybeat Classic, Korkorti takes listeners on a poignant journey through life's highs and lows.
In 'Meba,' Korkorti Asamoah's silky-smooth voice serves as a vessel for raw emotion, as he delves deep into the ebbs and flows of existence. The song opens with a soul-stirring melody that immediately captures the heart, setting the tone for a musical experience like no other. As the lyrics unfold, Korkorti's storytelling prowess becomes evident, painting vivid pictures of life's unpredictable nature.
Korkorti's lyrics in 'Meba' don't just dwell on life's challenges; they also emphasize the valuable lessons that can be gleaned from adversity. His message is clear: no matter the obstacles we face, we have the power to rise above them and emerge stronger and wiser.
The instrumental brilliance brought to 'Meba' by Skybeat Classic cannot be overstated. The production is a perfect marriage of modern soundscapes and traditional highlife elements, making it a captivating sonic experience. The seamless fusion of various musical elements highlights the rich tapestry of Ghana's musical heritage while keeping the song fresh and contemporary.
Korkorti Asamoah's 'Meba' is more than just a song; it's a musical journey that resonates with the essence of life itself. With its compelling storytelling, emotive vocals, and expert production, 'Meba' stands as a testament to Korkorti's talent as a highlife musician.
In a world filled with uncertainty, 'Meba' serves as a reminder to embrace life in all its facets, to cherish the highs and learn from the lows. Korkorti Asamoah's latest offering is a gift to music enthusiasts, a song that touches the heart and soul, and a reminder that, in the end, life's unpredictability is what makes it beautiful.