Meet Muniratu Jibril, The Most Talented High School Student Designer In The Central Region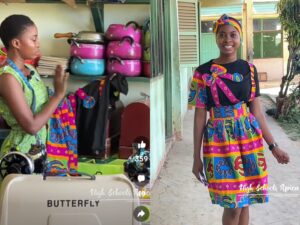 In this era of enterprenuership, it is a blessing to find Ghana endowed with so much talented younglings who will affect the economic society with so much financial exploits in the nearest future through their intrinsic abilities.
One fine young student of Kwegyir Aggrey Senior Technical High School, Muniratu Jibril is fast gaining popularity as one of the best student designers in Central Region. As a Home Science student, her expertise in fashion is unpaired. From creating complex but nice designs and slaying on the runway during fairs is something that wows even her tutors. Her savoir faire abilities can also not be left out.
Although a student, Muniratu is said to be designing clothes for people for functions like weddings, engagements, graduations, et all.
It is due to her prowess that drove High Schools Youtuber, Goshers of High Schools Africa on youtube to do a documentary of Muniratu's creative process and her dreams and aspirations in the future.
Watch from below her conversation with the team of High Schools Africa.
Also checkout the video on Facebook;
https://www.facebook.com/gosherspost/videos/270553301985097/?mibextid=FG1OuXcoECp1WxxK
Próstitute Exposes Angel Obinim Over Working Infront Of His Church
Just a few weeks ago, news came out that popular man of God, Angel Obinim has allowed prostitutes to hawk infront of his church. It was also alleged that these prostitutes rented apartments owned by the man of God, and that the said building was a stone's throw from his church, International God's Way Church, East Legon branch close to School Junction.
The reporter of the story, Shatana, a musician shared a video where she was at the premises, angrily sacking these purported prostitutes from the place of God because it was not right. Upon further probing into the case, Shatana alleged that the prostitutes confessed that they paid a rent fee of 2,000 cedis every month to their landlord, Bishop Daniel Obinim, and that gave them every right and effrontery to ply their trade in front of the church.
Replying to the news, Angel Obinim refuted all the above claims, and rendered them null and void. He even dared Shatana to provide evidence to that effect.
Shatana who seemed not ready to back down from the case took it to another level. She said in an interview on Kingdom FM, monitored by ghvibe.com that all that she said in the video regarding the case was nothing but the truth and she had substantial evidences to buttress it. She further threatened that she was going to drop the evidence she gathered on the case since Angel Obinim has dared her.
True to her word, Shatana has released the said evidence in a form of video on her Instagram page today. In the video, an alleged prostitute who claims to be a tenant in one of the apartments owned by Angel Obinim, and hawks in front of the church's premises is seen confirming the wild claims laid by Shatana.
Watch the video from below.
Loud In UEW Lights Up Winneba Campus With Their Bloggers & Influencers Link Up Party
University Of Education, Winneba Campus experienced a shake down as Media Group, Loud In UEW most anticipated party, "Influencers And Bloggers Link Up Party" happened last Sunday. The party which happened at Network Shark in Winneba saw around four hundred media networks and creatives of the school under one roof.
The organizers of the event hinted that the party was an initiation to bring together bloggers, media influencers, content creators and all round media personnel under an umbrella that will enable them ply their trade better, support each other, and more importantly sell their school, University of Education media wise.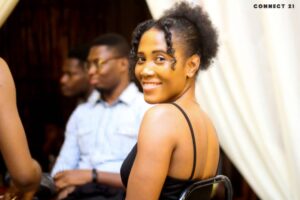 They also cited that most of their sister universities are way ahead of them so far as social media is concerned because most of their student bloggers and media influencers are united, hence there was the need to get together bloggers and creatives in the University of Education, Winneba to work collectively to up their social media game.
The event saw student bloggers, content creators, media influencers, radio presenters, actors, directors, musicians, and other media personalities of the university to party, get to know each other and see the way forward to propel the agendum of projecting media presence of students in the media world.
The organizers promised that the event was just a starter and that there will be more of them in the future.
Watch snippet of the event from below.