Event: Strongman And Kofi Mole Headlines "Offinso Shutdown" Show On 25th December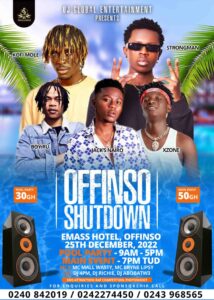 After the twelve months hustling and bustling, everyone truly needs to have a nice holiday and relaxation to refresh the mind and body. OG Global Entertainment has decided to give the folks of Offinso and beyond a treat as they host, "Offinso Shutdown" at Emass Hotel in Offinso this Christmas.
The event which is slated for 25th December, 2022 has Strongman Burner and Kofi Mole as headliners. The event is in two folds. The pool party which commences at 9am to 5pm and the main event which continues from 7pm till daybreak. Other artistes on bill are, Jacks Nairo, Boy Ru, Xzone, etc. The MC's for the event are, MC Mall Wasty and MC Bryne Lipsy. The DJs on deck are, DJ 4PM, DJ Richie and DJ Abobatw3.
The rate is a cool 30 cedis for the pool party and 50 cedis for the main event. There will be fun games, rap battles and photoshoots as side attraction. For enquiries and sponsorship contact, 0240842019, 0242274450 or 0243968565.
Watch a snippet of the event's promo video from below.
Artiste Profile: Meet Tess Positivity, The Young Musician Who Desires Affecting The Society Positively With Music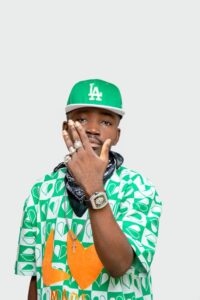 Tess Positivity, who is cleped Osmanu Suraj is a young musician who hails from Akwatia in the Eastern Region of Ghana. Born on the 30th of March 1999, Tess Positivity had his basic education at Akwatia Ghana Company of Diamonds     L/A school in Eastern Region. He then moved on Adiembra Senior High School in Sekondi, found in the Western Region of Ghana, where he had his high school education.
Tess' love of music started very early because both of his parents were staunch lovers of music who listened to varied song genres at home. This culture influenced the musician's career greatly. Tess Positivity had always sang renditions of other artistes' songs to friends and they always loved it very much. This pricked him to fully enter into music.
His artistic name, "Tess Positivity" has an indepth meaning which is quite fascinating. The "TESS" is an acronym that means "The Excellent Song Singer". Together with the Positivity, it means that an excellent singer who is in the game to effect positivity. The aim of Tess Positivity is to produce good songs that will help psych the youth to become better members of the society. Tess says he adores and listens to almost all musicians but he does not have a fixed role model because he came with his own style.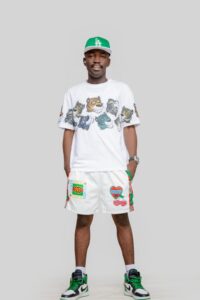 Tess Positivity emerged into the music scene officially in 2019 with a street banger that was dubbed, "Hustlers Anthem" which was all over the place. He then followed it up with "Thank You" which solidified his stake as a singer in the industry.  He then got the chance to join the Ghana Police Service in 2021, thereby pausing music for a short while.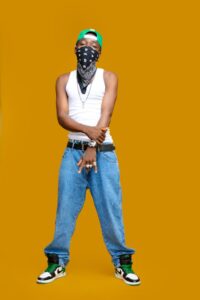 Tess Positivity is back again after his year's break and anticipating to release a new one he titles, ,"Don't Waste Your Time".
Follow Tess Positivity on the following social media handles.
Facebook:Tess Positivity/Tess Positivity (Page)
Instagram: tesspositivity
Twitter: Tess Positivity
Tik Tok: Tess Positivity
YouTube: Tess Positivity
Gospel And Secular Music Collaborations Are Not Evil" – Joseph Matthew Advocates

Conversations about Gospel Artistes working with their secular colleagues have sparked outrageous backlashes from many of the Christian faith but Gospel artiste, Joseph Mathew thinks otherwise. He asserts that there is no point having such discussions particularly when the good book, The Holy Bible  commissions Christians to show love towards all and sundry. Also he said that Jesus Christ himself sat mostly with sinners during his days because it was them that needed saving.
He maintained the view that Christians should not be 'unequally yoked' as defense of critics against gospel and secular music collaborations, was not a demonstration of love.
"I hate to say that religious people, especially people of the Christian faith are the most judgmental. We are always quick to dissaociate ourselves from people who don't share our beliefs, doctrines and way of life.
But the question is 'how do you share what you believe in without any relationship with the other party? Most of the time, Gospel artistes are the ones who invite secular acts for features. With such a move, the Gospel musicians are able to preach and share their beliefs and sincerely, I think it is an opportunity to win someone over.
Perhaps, when we look beyond the 'unequally yoked' mantra and consider how we can positively impact others with our beliefs, this debate will end", he expressed.
Joseph Mathew is a Ghanaian-UK based Gospel artiste making steady progress back home.
With songs such as Halleluyah, Nyame Ye, My Story, Not Alone and The Name gaining some popularity in Ghana, Joseph was emboldened to host his maiden concert at the Perez Dome in May last year.
The artiste who is currently promoting his latest song, Blessed identifies himself as an urban artiste but there is more to him.
His style is an infusion of what he says is neotonic Afrobeats, rap and contemporary Highlife.
Joseph Matthew, the proffer of Afro-gospel music in Ghana, also mentioned that there was no point comparing artistes from Ghana to Nigeria because Ghana had proven itself worthy in the affairs of music in the sub region.
"Ghana is like a state in Nigeria. Our population is less than 40 million as  compared to Nigeria with over 300 million people. So with this disposition, our present influence and contribution to music in Africa and beyond, we are even doing well," he said.
Checkout Joseph Matthew's newest Afro-gospel song he titles "Blessed" from below.
Source: Graphic Showbiz