Meet Jhay Alpha, A Ghanaian Born Uk Based Rapper Who Is Redefining Rap Music In Europe
Amuzu Godwin Sefa Junior known musically as Jhay Alpha is a Ghanaian born  UK based artiste.
Amuzu Godwin Sefa Junior was born on the 6th of October, 1994 at the Tetteh Quarshie Memorial Hospital, Mampong in the Eastern Region of Ghana. Jhay Alpha's father, Kweku Amuzu was a headmaster and his mother Ernestina Amuzu was a petty trader. Both of his parents are voltarians.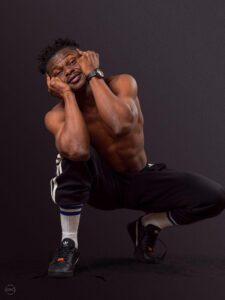 Jhay Alpha schooled in Aburi Demonstration school at Domeabra a suburb in Aburi, continued with his higher education at Legon Presec after his Basic Education Certificate Examination.
His musical career began during his high schools days at Presbyterian Boys' Secondary School, (Presec -Legon) where he learned routine vocal training. After secondary school he took his music career a step ahead by releasing two singles, "Show me" ("Kyere me") which he  featured Kay Spunky now known as NaeKay, "Street Anthem" which featured Lepton Fayahman and he got featured on "Super Mario" a song by Webshot Da Rapper, also an upcoming rapper, and a few more other features.
Jhay Alpha then moved to the UK and joined the British Army in 2019 right after gaining his first degree in Business Administration at the University Of Professional Studies, Accra (UPSA), Gh. He is still serving in the UK army.
Jhay Alpha, although busy with military business never let go of music. He has therefore released his debut EP he calls The Unrealistic Dreams under his own set up record label called BY ANY MEANS NECESSARY (B.A.M.N.) RECORDS.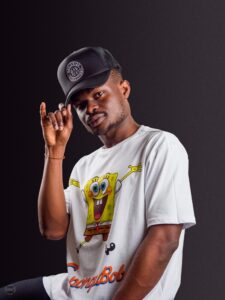 Jhay  Alpha has promised his fans that his current EP is just a tip of the Iceberg and that he has got more amazing projects in the pipeline for their perusal.
Follow Jhay Alpha on the following social media fora;
Instagram – jhayalphaworldwyde_i
Facebook – Jhay Alpha WorldWyde
Twitter – @Jalphaworldwyde
YouTube – Jhay Alpha Official
Anticipate: Fredysingsong Set To Drop A New Song On 15th November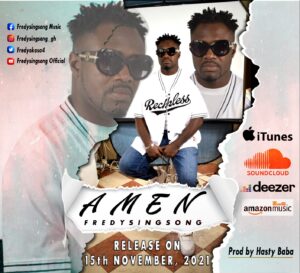 Diasporan Ghanaian urban gospel artiste, Fredysingsong is set to release his newest song dubbed, "Amen" on the 15th of November, 2021.
The new song which will be dropping soonest is produced by Hasty Baba. The new joint, "Amen" is of the highest anticipation because it's been sometime since the fans heard from their artiste, Fredysingsong.
Fredysingsong who is popular for his hit tracks, Whole World which featured Rev. PK Boadi and Bohye Bi which featured K Asare. The artiste further said that although he has been away for sometime, he was preparing this song and indeed, it's worthy of the wait.
Follow Fredysingsong for more updates on the following social media fora;
Facebook – Fredysingsong Music
Instagram – Fredysingsong_gh
Twitter – @fredyokasa4
YouTube – Fredysingsong Official
Artiste Manager, Riley Osei To Celebrate His Birthday With A Mega Concert In Adanwomase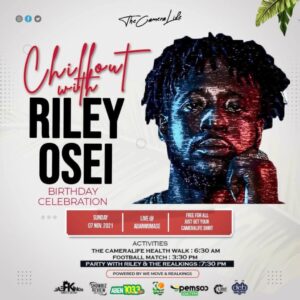 Multi award winning artiste Manager, CEO of Cubesstudiosgh and Co CEO of Realkings Empire, Riley Osei is coming out with a super mega Music Concert dubbed, "Chillout With Riley Osei" as part of his birthday celebrations on Sunday, 7th  November, 2021 in his hometown, Adanwomase, popular for the making of oringinal Kente Cloth.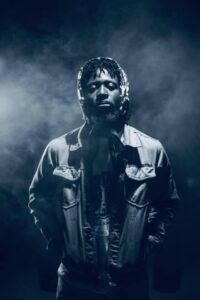 The event which is just not fun packed but also communally insighted, will kick start with, "The Cameralife Health Walk" which begins at 6:30am in the morning. It will be followed by a football match at 3:30pm in the afternoon. The crowning of the event will be the "Party With Riley And The Realkings", which involves performances from all the artistes under Realkings Empire.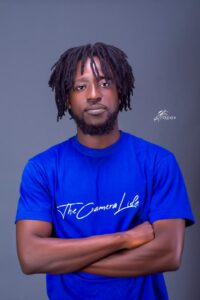 The event will be emceed by Akwasi Chokey and Yaw Kuffour, all from Adanwomase. The official DJs are DJ Amorosso (Luvfm) and Dj cartoon (AbusuaFm). Performances from these artistes, Kwabilex, Jallo, Currie, iGees and Qwesi Dagaati, who are signed under Realkings Empire are expected. Also, there will be performances from undisclosed surprise artistes.
The event is free for all provided you have on your Cameralife T-Shirt.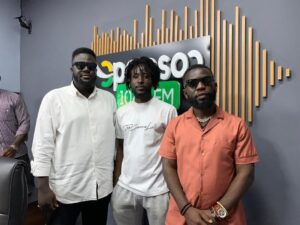 "ChillOut With Riley Osei" Birthday Celebration is powered by We Move and Realkings Entertainment. Aben FM's Showbiz Review, Opemsuo  104.7 FM, Kyidom Bright, Cubestudiosgh, and several others are the media partners supporting the event.
Come let's Chill out with Riley Osei and his friends on his birthday on the 7th of November, 2021!!!